All About AlphaSights
AlphaSights is the global leader in knowledge on demand. They connect investment and business leaders with a dynamic network of industry professionals whose informed perspectives help their clients make superior investment and business decisions. With 1500+ employees and nine offices across the US, Europe, Middle East, and Asia, AlphaSights regularly ranks as one of the fastest-growing companies in the world.
The AlphaSights L&D Team
Blanca Ibarra-Ruiz, Digital Learning Manager
Anna Hentunen, Digital Learning Associate
Alexander Celer, L&D Manager, EMEA & APAC
Jenny Goersch, L&D Manager, US
Catarina Coimbra, Associate, L&D
Julia Vincent, Director of Client Service Excellence
The Challenge: Devising An Effective Programme To Onboard, Train, And Upskill 1500+ Team Members Globally
As AlphaSights continues to grow rapidly around the world, maximising and scaling employee onboarding and development becomes more crucial than ever. Ongoing training is essential to ensure their 1500+ team members have everything they need to perform their best.
As the company expanded, AlphaSights knew its previous exclusively face-to-face training solution was no longer fit for purpose. AlphaSights faced five main training challenges:
Tailoring resources. Training was mainly created by the L&D team, meaning the materials weren't expressly tailored to the specific challenges and demands of each role.
Scaling expertise. There was no training solution in place that could help scale internal expertise to match company needs.
Tracking progress. There were limited options to measure course progress or success.
Boosting attendance. The previous training format relied solely on classroom training, which involved extensive scheduling and was logistically demanding.
Centralising training materials. Training materials weren't centralised, resulting in employees having inconsistent training experiences.
The Solution: 360Learning, A Learning Platform Designed To Boost Engagement And Upskill At Scale
When they realised that they weren't maximising employees' learning potential, the L&D team started exploring digital learning solutions. That's when they discovered 360Learning—and the potential to upskill from within.
The main competitive advantage was the easy-to-use authoring tool, the ability to collaborate with course authors, and using analytics to measure the success of the training.
"Before 360Learning, we had difficulties with scaling training," said Alexander Celer, L&D Manager, EMEA & APAC at AlphaSights. "We had trouble getting people to attend their classroom sessions and the presentation format simply wasn't engaging enough."
Here, the L&D team highlights 5 key benefits of 360Learning that have transformed the way people at AlphaSights develop their skillset.
Turning In-House Experts Into Employee And Client Growth Champions
By empowering their Subject Matter Experts to contribute directly to digital training programmes, the team has unlocked their organisation's collective expertise. "Our people are our most valued asset," explains Anna Hentunen, Digital Learning Associate. "We really want to tap into the knowledge that they have."
"You don't have to be an eLearning hero to create content," Jenny Goersch, L&D Manager, US, says. "We have experts, for example, on the commercial side, the engineering side—and these people can easily share their knowledge by authoring courses in 360Learning; we've engaged over 300 Subject Matter Experts as authors."
By decentralising the content creation process through AlphaSights' Author Curriculum, it has made the course content more credible, relevant, and role-specific. As a result, completion rates have soared to 95%.
As Digital Learning Manager Blanca Ibarra-Ruiz explains, "It's easy to train our employees with this collaborative approach, and everyone is eager to become an author."
The Author Curriculum has been fundamental in creating an exceptional learning experience for employees. Read on to hear about how 360Learning's authoring tool has enabled AlphaSights to engage 27% of their workforce to become course authors.
Any organisation that wants to empower busy Subject Matter Experts to help with content creation needs to make the process as easy and as smooth as possible. That's why an embedded authoring tool with a clear User Interface and the ability to integrate with other tools was one of the top solution requirements for the AlphaSights L&D team.
"The authoring tool has massively reduced the amount of time it takes to create a course from its inception to deployment," says Blanca. "Before, it could take months to deploy training materials, by which time the information would be outdated. With 360Learning's super easy authoring tool, we can create a course within a few days."
The ability to scale content creation has made a huge impact on the organisation.
"From the time we adopted 360Learning to now, we have almost doubled in size—and still the platform is fit for purpose," Alexander says.
In addition to simple course creation, enhanced analytical insights have also played a huge part in demonstrating the real impact of Learning and Development at AlphaSights.
Enhanced Analytics To Measure The Success Of Training Programmes
Reporting functions are very important for the AlphaSights L&D team.
"The platform has helped us massively in measuring the success of our training," Alexander explains. "We can track people's progress, assess levels of engagement, and gather feedback on our courses."
The feedback functions, including the Reactions feature, have also helped the team inform business leaders of priority learning needs. This has enabled the L&D team to tie their initiatives back to business and commercial goals.
360Learning analytics have enabled AlphaSights to report on critical learning metrics. This makes it possible to offer exceptional learning experiences. Read on to see how AlphaSights does this with a blended learning approach.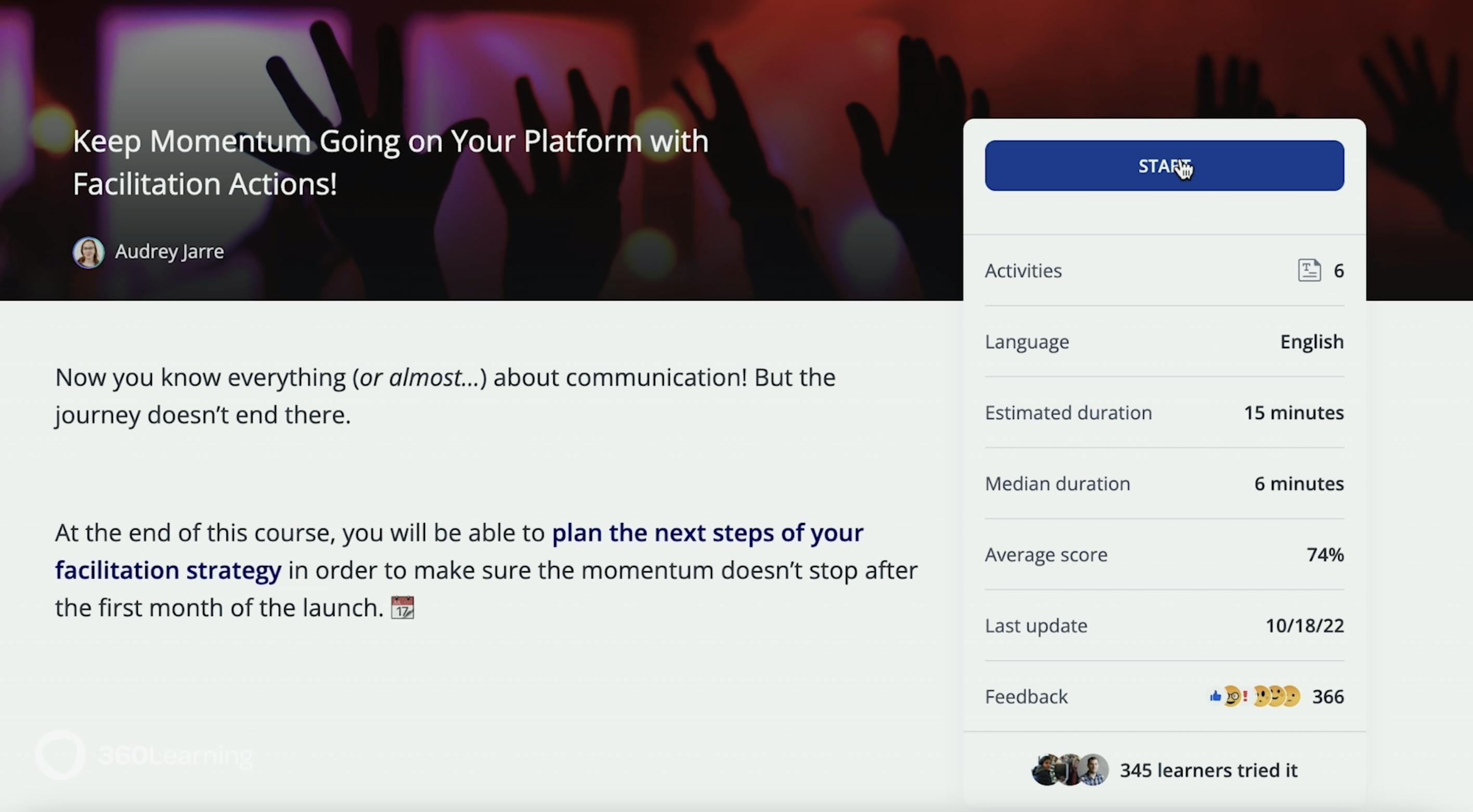 A Blended Learning Approach For An Exceptional Onboarding Experience
The transition from classroom-based training to a digital and blended learning strategy has allowed AlphaSights to better meet new employees' needs.
Digital onboarding courses are now introduced ahead of live sessions, giving new joiners the opportunity to learn at their own pace, wherever they may be. Employees enjoy the flexible quality of digital learning, as it gives them the opportunity to learn when it suits them best, while also giving them the chance to interact with their peers in workshop-style sessions.
"I can track people's progress, track their results, and how they're reacting to the content," says Catarina Coimbra, Associate, L&D at AlphaSights.
So, what makes AlphaSights employee training so easy to follow? Great product features, of course!
Interactive Product Features For Higher Completion Rates And Up-To-Date Training
The AlphaSights L&D team use a number of 360Learning product features to increase the efficiency and engagement of their training programmes. These include:
Reactions and Relevance Scores – The Reactions and Relevance Scores give course creators the ability to keep track of learners' progress and gather feedback in real time, allowing them to monitor engagement levels.
Discussion Forum – 360Learning's discussion forum brings to life the social aspect of learning. Learners can start virtual conversations and ask questions, encourage their peers to share information, provide specific comments or feedback on course content, and connect with each other.
Comments – The tagging function has enabled collaboration between experts and the L&D team. "Typically, the L&D team will tag authors in courses where tweaks to the content need to be made. This is a really great way to ensure the material is kept up to date," says Julia Vincent, Director, Client Service Excellence.
The Results: Improved Learner Productivity, Course Relevance, And Completion Rates
"360Learning has been a game changer. It's helped us scale our expertise, increased engagement, and helped employees acquire the skills needed to boost productivity across the board." – Julia Vincent, Director, Client Service Excellence
By usingAlphaSights' Subject Matter Experts and encouraging knowledge sharing across the organisation, the L&D team has been able to build their onboarding and employee training with impactful, demonstrable results:
300+ Subject Matter Experts have become course authors
AlphaSights has maintained a 95% completion rate on courses
97% of in-course Reactions have been positive, indicating that new joiners have found training content useful and relevant.
The Future: Expert-Led Upskilling From Within
Upskilling from within by using expert insights has helped AlphaSights develop employee training and onboarding programmes that make their workforce more productive, resulting in more satisfied clients.
In the coming year, AlphaSights will continue to focus on upskilling. They intend to take our Paths feature to the next level by enabling experts to devise learning journeys for different cohorts of employees, which will create even more tailored and impactful training experiences.
360Learning
360Learning is the learning platform powered by collaborative learning. Upskill from within to accelerate internal mobility and deliver relevant training at scale with our easy-to-use, award-winning authoring tool.
Originally published at 360learning.com.