"Turnover is vanity but profit is sanity" is an old stock market adage and at a glance the latest Top 100 shows an industry focused on the bottom line.
Altogether, this year's Top 100 construction companies turned over £74.5bn in their latest accounts – up by 12.6% on the previous financial year – but profitability surged at a far higher rate as companies emerged from the worst effects of the Covid-19 pandemic.
(Listen online, Bishop & Taylor discuss The Construction Index's Top 100 on the Re:Construction podcast. Episode 134)
Those same 100 companies virtually doubled their aggregate pre-tax profits to just over £2bn according to the latest available accounts at Companies House as of July 31st, 2023.
At a superficial level that performance, together with a doubling of the number of construction people appearing in the Sunday Times annual Rich List, suggests an industry in fine fettle as the wider economy sags under pressure from a cost of living crisis and rising interest rates.
The construction industry's leading players should therefore be in decent shape. But if you dig a bit deeper the picture is far more complex and less positive. While 84 companies in the Top 100 increased turnover and 87 of them made a pre-tax profit in their latest trading year (up from 83 in the previous period) the size of that bottom-line profit figure reduced at 54 of those companies.
The impact of the cost of living crisis is pushing wages up and at the same time driving down the number of staff being employed. Meanwhile cost pressures are continuing to mount both from the cost of importing materials and a massive rise in the price of energy since Russia's invasion of Ukraine in February 2022.
The knock-on effect is that profit warnings among companies in the FTSE Construction & Materials sector reached their highest level for three years this summer. The impact of a weakening housing market on work in the residential sector has been a major factor behind this rise in profit warnings and this is pushing up the number of companies going to the wall.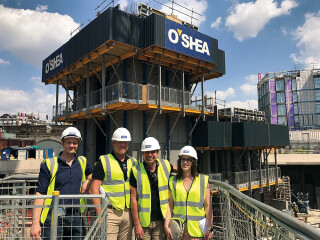 Big names that have been lost to the industry this year include Henry Construction Projects and Tolent, which were ranked 45 and 80 respectively in last year's Top 100. 
The total number of construction companies falling into insolvency in the past 12 months reached a 14-year high this summer with plenty of other smaller but familiar regional names also disappearing. Among the casualties are Castlehouse, Claritas, G Works, Howard Russell, ME Construction, Quantum, Metnor, Stewart & Shields and Midlands outfit J Tomlinson, which ceased trading in July. 
Amidst the fall-out from those imploding companies, some jobs have been saved.  Brims Construction and Re:gen Group, both based in Sunderland, took on former Tolent staff for example. The biggest hits have been further down the supply chain.
The number of specialist contractors going bust doubled in the second quarter of this year. A government decision this summer to block a proposed amendment to the Procurement Bill to include project bank accounts, which can offer greater protection to smaller companies, will have been keenly felt by specialist subcontractors.
There are 13 specialist contractors in the latest Top 100 (compared with 23 last year) and their total turnover was just over £7bn. But three of these companies lost money in their latest trading year and profits slumped at another five. 
That contingent of 13 specialist contractors employed nearly 30,000 people, but the workforce was cut at five of these companies to try and stem outgoings on wages, which were subsequently reduced.
The impact of labour issues at specialist contractors across the industry is being felt by the main contractors at the helm of supply chains on major projects.
Karen Booth, chief financial officer at ISG, says: "We are seeing material cost pressures starting to gradually ease and stabilise, however the labour element remains volatile and this is negatively impacting supply chains. Our supply chains are crucial to the health and overall success of the sector and we're increasingly hearing about labour challenges from our supply chain partners – if this continues this will undoubtedly impact productivity and performance."
One of the major factors behind the surge in specialist contractors going under is the impact of agreeing fixed price contracts during a boom in material costs.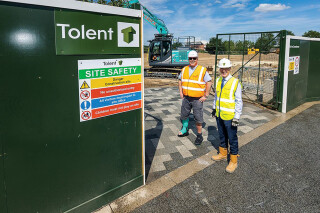 These supply chain failures can have a major impact on productivity, as main contractors must bring in new companies to start on or complete packages that have already been procured once before. This piles pressure on project management teams and can create delays that incur penalties from clients.
"Most of us are now in the final phases of projects that were procured in 2022, which was the worst time for fixing material prices," explains Graham Dundas, chief financial officer at Willmott Dixon. "The impact when you take something integral to a project – like an M&E contractor – to the time it takes to replace them is the biggest risk we have faced in the last 18 months. Projects can, and easily do, lose a few months of progress if a subcontractor fails; and it's the main contractor's responsibility if a sub-contractor fails."
Dundas explains: "It's very rare it would be a customer's responsibility. The impact in terms of damages comes down to what it actually costs a customer. We've had a mixture of both where a customer follows up on their contractual responsibility and others where their gratitude to the project and supply chain is so great that they do not."
As contractors wrestle with supply chain issues, the industry as a whole appears to be preparing to shrink as clients hold back on projects or reduce their aspirations.
"One of the largest challenges that the industry faces in the near term is the impact of project slippage due to high interest rates and scarcity of funding," adds ISG's Karen Booth. "Speaking with colleagues across the industry, it's clear that the current economic landscape is already impacting on funding decisions for customers, and we can expect this squeeze to continue until these inflationary pressures ease."
A consequence – certainly based on the latest Top 100 analysis – is that many contractors of all types appear to be holding back on recruitment in order to fund pay rises for employees who are struggling under the ongoing cost of living crisis.
Overall, the Top 100 contractors remain major employers, with an aggregate of 209,960 employees according to their latest annual reports. However, that represents an increase in staffing levels of just 1.2% compared with a year ago; meanwhile aggregate wage bills have leapt by 8.8%.
This summer saw job cuts pushed through at a number of major contractors including Bam, Higgins and Lendlease. This should strengthen the bottom line and boost profit margins.
Across the Top 100, the upswing in profitability pushed the average pre-tax profit margin up to 2.72% compared to 1.6% at the same companies a year earlier. That margin increase will have been helped by the slower recruitment but put under pressure by wage rises.
With a pre-tax profit margin of 14.9%, CJ O'Shea (96 on the table) is the most profitable company in the Top 100 this year. Five other companies – Henry Boot, HW Martin, Tarmac, Caddick and Carey – also produced profit margins in double figures, but this was often boosted by income from other sources, notably property development.
Margins were 2% or below at 31 other companies in the Top 100. But a more sobering statistic, as construction heads into another period of wider economic uncertainty, is that profit margins fell at two-thirds of the industry's biggest contractors. The likelihood is for further job losses as contractors focus on a smaller but hopefully more profitable future.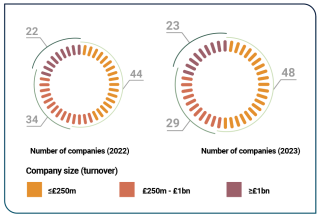 Ian Marson, partner and head of construction in EY-Parthenon's strategy and transaction business, says: "Revenue growth is not the top priority for construction companies now: it's the profit margin. You can add an extra £100m in revenue and make less money, so you've been a busy fool. Companies are also looking at their overheads. They are starting with central overheads as they are going to be smaller businesses in the future."
The irony is that, with the exception of the residential sector, workload opportunities are improving as clients come to the market with re-engineered schemes tied to a lower budget and look to tie contractors to a good price in the current uncertain economic environment.
Willmott Dixon's Graham Dundas says: "It remains that there is a lot of work out there. Our pipeline is growing and our bidding teams are busier than ever, but it's fundamental to Willmott Dixon to have the right project at the right price with the right supply chain."
Those contractors that have already taken the difficult decisions (Willmott Dixon made 5% of its staff redundant in 2020) or do so in the coming months will be in a better position to navigate successfully the current treacherous economic waters.
Contractors that do not, and instead take on work at wafer thin margins, face a more difficult future, particularly as raising the bonds necessary to take on big projects from surety providers is getting harder due to the rise in insolvencies.
Contractors that bid low on jobs and then look to try and boost profits by adding post-completion charges are more likely to end up in drawn-out disputes that may well see their names added to the list of the construction industry's dead and gone. 
For the Top 100 and the wider construction industry, difficult challenges lie ahead. 
To see the full table, visit Top 100 Construction Companies 2023 in our Data News section.
Top Specialist Contactors Table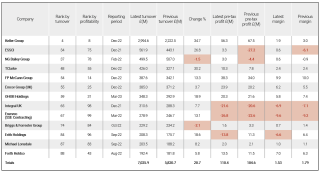 The TCI share index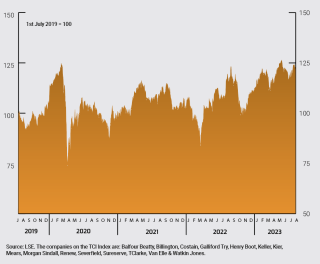 Shares in contractors have rebounded by more than 50% since the lows produced by the onset of the Covid-19 pandemic, according to the TCI Index, which has been compiled exclusively for the Top 100 by the London Stock Exchange.
In March 2020, construction shares dropped to their lowest level in the last four years as the global economy was brought to a standstill by the pandemic, but the TCI Index then surged over the next 18 months, hitting a high of nearly 140p in mid-August 2021.
As the industry emerged from the worst of the impact of the virus, inflation in labour and materials costs dragged on the TCI Index, which is comprised mainly of larger players, such as Balfour Beatty, Costain, Galliford Try, Kier and Morgan Sindall plus listed specialist contractors such as Severfield and TClarke.
The impact of ballooning input costs on the Square Mile's sentiments for construction were exacerbated further by Russia's invasion of Ukraine, which forced up energy costs and dragged down share price valuations last autumn.
As investors began to price in the impact of cost and energy inflation, this brought a rebound in shares. This summer, the TCI Index was up 21% on last autumn's low and is up by a third on the same stage in 2019, illustrating the stock market's faith in big construction despite the myriad problems it faces.
Insolvencies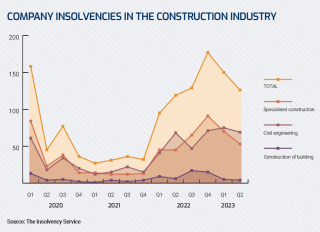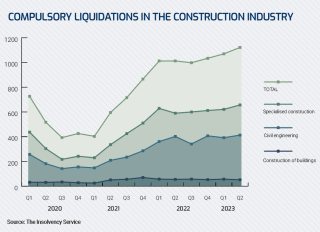 The number of construction companies falling into insolvency has reached its highest level for 14 years and the trend looks set to continue.

In Q2 2023, the Insolvency Service recorded 6,342 insolvencies in England and Wales, which was 13% up on the same period last year and the highest number since Q2 2009.
Fintan Wolohan, a managing associate in the restructuring and insolvency team at lawyers Womble Bond Dickinson, says: "The statistics reflect that the last few years have been incredibly tough for the industry, with Brexit, Covid-19 and the war in Ukraine among other things playing their part."
Insolvencies increased across all sectors of the economy, but the construction industry experienced the largest number with 1,122 firms slumping into insolvency in the second quarter of this year alone.
This represented 18% of all insolvencies in the period and construction firms have continued to struggle. 
Midlands contractor J Tomlinson, a £106m-turnover business, fell into administration in July. After nearly 200 years in business, glazing and roofing contractor Norman & Underwood also ceased trading this summer, while leading M&E contractor Haydon, which turned over £66m a year, appointed administrators this summer. And Buckingham Contracting Group – number 30 in our rankings with £665m turnover last year – went into administration in August.
Many specialist contractors are also feeling the heat after being tied into fixed price deals by main contractors looking to reduce their own risk after rampant inflation in labour and materials prices.
Ian Marson, a partner and head of construction in EY-Parthenon's strategy and transaction business, says: "The big contractors went through a lot of pain post-Carillion. The banks came down hard and they went for profitability. The way I like to describe it is that companies are being run by their CFOs rather than their chief executives.
"One of the consequences was that the big Tier 1 companies passed the risk down to subcontractors with more fixed price contracts. The Tier 1 companies are in a reasonable place but Tier 2 and below are being hit and we're starting to see the insolvencies flow."
Marson continues: "Construction has never been an easy place to raise money and it's got worse over the past three or four years. A lot of these firms are coming off three- to four-year debt cycles and finding their debt renewables are a lot more expensive. That has been the case with some of the insolvencies we have seen."
The 657 insolvencies in the specialist construction sector in the second quarter of this year is more than double the number recorded in Q2 2020 and the highest since Insolvency Service records began in 2013.
Profit warnings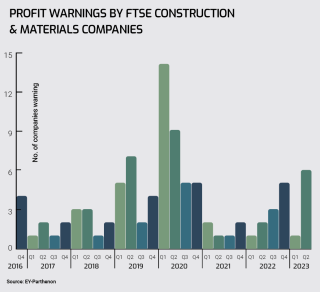 Profit warnings at publicly listed construction companies hit their highest level for three years in the second quarter of 2023 and further signs of weaker earnings continue.
In the three months to June 2023, six companies listed in the FTSE Construction & Materials sector cautioned about lower-than-expected profits, according to research by EY-Parthenon. 
Five of these warnings cited a slowdown in house-building as a key trigger.
Ian Marson, a partner and head of construction in EY-Parthenon's strategy and transaction business, explained: "The companies focused on infrastructure and commercial fit-out are doing very well and able to generate good prices. What you are seeing impacted is house-building and those companies working in commercial real estate construction.
"The big house-builders have seen this coming for a while and are reacting in different ways, but on the supply side inflation is still there. Its slowing but prices are still going up; it's expensive but it's not getting so expensive so quickly.
"The material side is still a big factor. Material prices have slowed and are not going up as quickly, but labour is going up because people want to be paid more as the cost of living has gone up. So, it's a supply and demand problem," adds Marson.
Only the FTSE Industrial Support Services sector fared worse in Q2 2023, with seven profit warnings. Overall, there were 66 profit warnings at listed companies with a tenth coming from the ailing FTSE Construction sector where more than 28% of companies have now issued a profit warning in the past 12 months.
Although EY does not identify individual companies in its research, construction-related firms that cautioned about lower than expected profits in the second quarter of this year include materials groups Marshalls and Travis Perkins. 
In June, Travis Perkins warned about the impact of higher interest rates and weaker consumer confidence in the housing sector on both new-build and maintenance work. Marshalls warned on profits in May, citing the same factors and warning that if problems persist this might ripple out across the sector.
Amanda Blackhall O'Sullivan, partner and creditor advisory leader at EY-Parthenon, said: "The construction sector's biggest businesses have been largely protected from stress so far, as they typically work across diverse portfolios…with relatively low exposure to the UK housing market. However, if the sector's slowdown continues then we may see this economic stress move further up the value chain."
That appears to be occurring as other companies exposed to the residential sector suffered similar problems into the third quarter of this year. Products group SIG cited ailing demand across Europe and a spike in operating costs in July, when build-to-rent specialist Watkin Jones also warned about lower-than-expected profits and chief executive Richard Simpson stood down.
With two profit warnings in July alone, the likelihood of the construction sector remaining among those most affected by economic instability is high, says Ian Marson: "I think profit warnings will stay relatively high. These are fundamental changes that construction companies are facing. It's a hard slog and there's no easy way forward."
People & Pay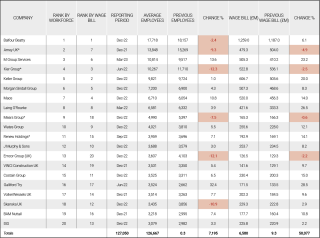 The number of people employed by the Top 100 contractors is edging back up as the industry emerges from the worst of the Covid-19 pandemic and the end of furlough payments. But the current level of recruitment is still well below forecast needs.
The industry's Top 100 contractors took on a total of 2,553 new staff in their latest financial year, when these companies employed 209,960 people. The total workforce at the Top 100 companies is up just 1.2% on the previous year and well short of the levels that the industry is predicted to require.
In January, the Construction Industry Training Board (CITB) forecast that the industry needs to increase recruitment by 25% over the next five years if it is to meet demand. This equates to an extra 44,980 people joining the industry every year.
Business revenues are certainly increasing – turnover rose at 84 of the Top 100 companies – but while two-thirds of these 100 companies also took on more staff, the average number of employees fell at 36 contractors. 
Overall, the 12.7% growth in turnover for the entire Top 100 is more than 10 times the aggregate growth in employee numbers, which suggests that staff are working harder to bring in this increasing revenue.
The biggest recruiter in the Top 100 was Glencar, where the workforce ballooned by 95% to help service a 160% surge in revenue. The average number of employees leapt 78% at GMI, where turnover rose nearly 200% in the most recent financial year.
MV Kelly, Higgins, HG Construction, Galliford Try and Severfield also increased their workforces by more than 30%. 
Amongst the 20 biggest employers, the 32.4% increase at Galliford Try – fuelled by the acquisitions of MCS Control Systems and Ham Baker – was by some distance the greatest rise. The workforce shrank at half a dozen of the Top 20 firms.
There has however been a far larger rise in spending on wages as furlough payments from the government ceased and the cost of living began to rise.
The Top 100 contractors paid out a total of £11.5bn in wages – up 8.8% from the total of £10.5bn paid in the previous year. Across the Top 100, wages increased at 80 companies with double digit increases at 47 contractors.  
The wage bill increased by more than 100% at Glencar and GMI in line with their massive increase in turnover. Among the Top 20, Galliford Try, Laing O'Rourke, M Group and Keller boosted their spending on wages by more than 20% as the industry sought to counter massive hikes in the cost of living. These costs have increased since the latest accounting periods of most of the Top 100 ended. 
Since then, redundancies have started to proliferate, suggesting that the mild growth in jobs may grind to a halt.
The Rich List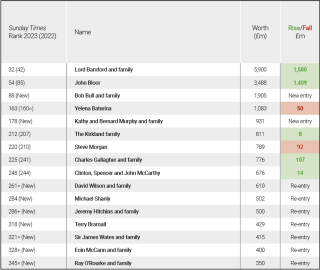 Among the richest people in the UK, the proportion of those deriving their wealth from the construction industry has more than doubled over the past year.
The latest Sunday Times Rich List of the 1,000 wealthiest people resident in the UK includes 16 people and their families whose wealth comes from construction; last year there were just seven.
The Kirkland family have been overtaken as the richest contractors after a boom in the wealth of Kathy and Bernard Murphy and their family, who control infrastructure contractor J Murphy. The Murphys were not even in the Top 350 a year ago but this year they're in 178th place.
The construction industry's wealthiest household remains that of Lord Bamford and his family, who control construction equipment giant JCB. After slipping out of the Top 40 in 2022, the Bamfords bounced back strongly, climbing 10 places with their overall wealth surging by £1.58bn to £5.9bn.
House-building magnate John Bloor, who owns Bloor Homes as well as the Triumph motorcycle business, also experienced a dramatic improvement in his wealth – up just over £1.4bn to nearly £3.5bn. As a result, he leaps 31 places.
The only other construction-related person inside the Top 100 is bungalow-builder Bob Bull and his family, who shoots into 88th place. Bull runs RoyaleLife, which has built more than 90 gated communities of fully furnished bungalows for people aged 45 and over across Cornwall, Dorset, Hampshire, Kent and Norfolk.
Bull, originally from Southampton, was declared bankrupt in 2016 after his caravan park business went under. But he has found a profitable niche in helping people downsize and as a result his wealth is now estimated at more than £1.9bn.
Not all the construction-related magnates on the Rich List enjoyed a boom in their wealth. The fortune of Russian-born construction magnate Yelena Baturina, who lives in London but does virtually no business here, shrank by £50m last year. Redrow founder Steve Morgan also slides down the rankings again. Ranked at 185th two years ago, Morgan slipped to 220th after his fortune shrank by £4m. 
With mortgage rates rising, the prospects for house-builders are not bright in the short term but many house-builders have benefitted from a post-pandemic boom in the housing market.
The wealth of Charles Gallagher and family, who control Anglo-Irish house-builder Abbey, strengthened for a second year in a row. The McCarthy family behind retirement home builder Churchill is also better off than a year ago.
A number of house-builders also re-enter the rankings of the UK's 350 richest people. Michael Shanly of Shanly Homes, the Wilson family of Wilson Bowden fame, Jeremy Hitchins and family, who own house-builder Robert Hitchins, and Keepmoat founder Terry Bramall all bounce back into this echelon.
Further down, the Wates, McCann and O'Rourke families bring the number of building contractors represented in the Top 350 to four. That's a tally not seen for a number of years.