Two New Jersey dentists and other oral care professionals have teamed up to give a first responder the gift of a gorgeous new smile.
Dr. Jason Auerbach, CEO and founder of Riverside Oral Surgery practices, joined forces with Dr. Dayna Cassandra of DC Cosmetic Dentistry to form the Riverside Oral Surgery First Responders Initiative, which aims to "donate" restorative and cosmetic dental services to first responders.
Johnnie Ramos, a detective with the Passaic County Sheriff's office in New Jersey, was the first recipient chosen to receive a new smile.
MAINE DENTAL PROFESSIONAL STARTS NONPROFIT, DRIVES MOBILE CARE TRUCK STATEWIDE TO SERVE THOSE IN NEED
"We're very fortunate to be in a position to help people," Auerbach told Fox News Digital in an on-camera interview. "And it made sense that if we were going to do something like this, that we would do it for people who put themselves in harm's way to be there for others."
He added, "Those are the people who deserve it the most, in my opinion."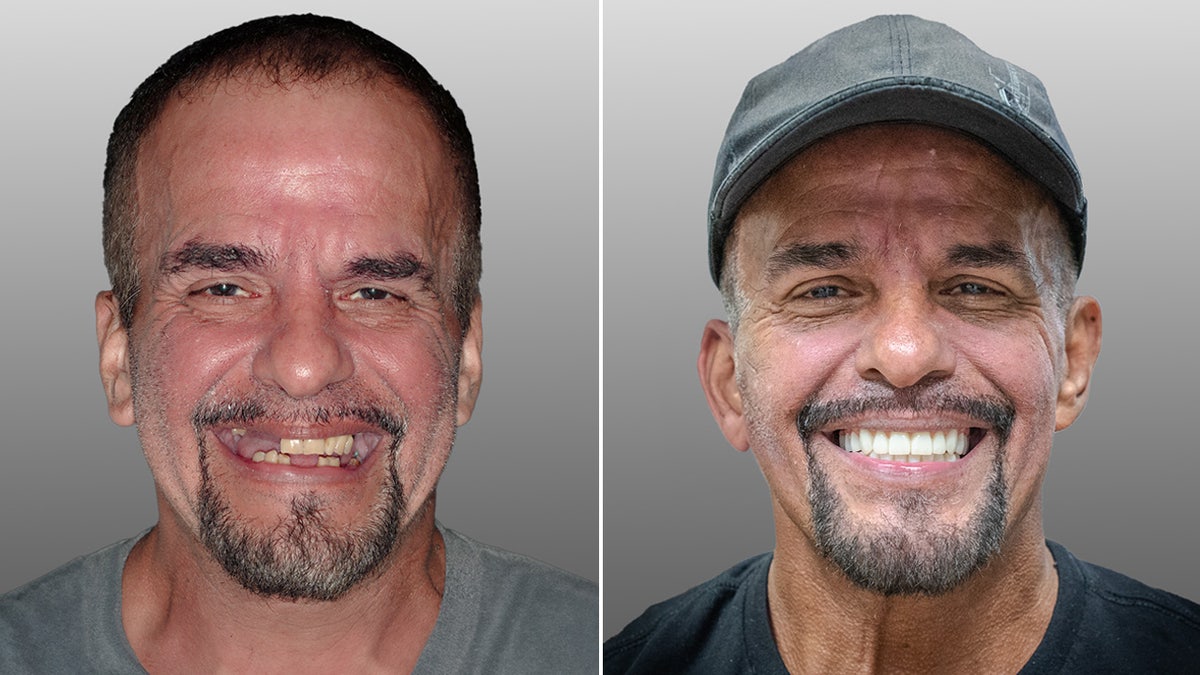 Auerbach and Cassandra, who have been practicing in the same neighborhood for 20 years, set out to organize a team of people who had complementary skill sets and a desire to help others. 
Those included Dr. Jonathan Mendia, an anesthesiologist, and donation partners Straumann and Kuwata Pan Dent Laboratory, which manufacture dental implants.
When it came time to choose the first recipient for the initiative, Auerbach posted announcements on his Instagram accounts, @bloodytoothguy and @riversideoralsurgery.
It's really an art and a science.
"We basically set out to seek interest and we found a lot of deserving people," said Auerbach, who is also CEO and founder of MAX SSM, an innovative platform for oral and maxillofacial (jaw and facial) surgery.
BE WELL: STOP GRINDING YOUR TEETH FOR BETTER DENTAL HEALTH
"The unfortunate reality is that we can't help everybody. So we kind of looked at the big picture and understood what was important about Johnny's case, both the dental needs and who he is as a human being, and he was the one we selected."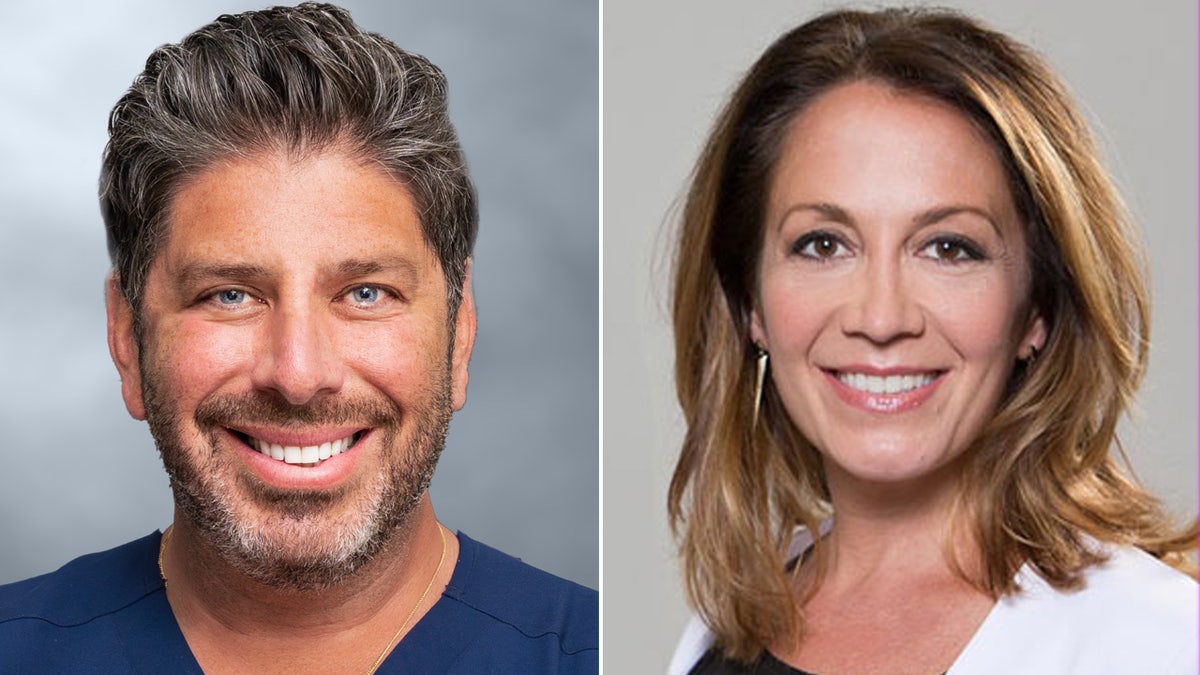 Ramos has been a detective with Passaic County for nearly 31 years. He had a long history of poor dental health, which stemmed from not taking care of his teeth as a child.
"Since I was a little kid, I would eat a lot of junk food and not brush my teeth after every meal the way I should have," he told Fox News Digital in an email. "I was also a smoker, which I now know was another problem."
After having a bad experience early on, Ramos had a longtime fear of going to the dentist — so he admittedly "never went back."
AI HELPS DENTISTS CATCH MORE CAVITIES AND GUM DISEASE: IT'S 'UNBIASED' AND GIVES 'MORE ACCURATE' DIAGNOSES
When he heard about Auerbach's initiative to offer restorative dental work for members of law enforcement, he entered and was nominated for the SMILE program.
Through MAX SSM, Ramos received a full mouth reconstruction using several tooth implants. 
The dentists started by performing a full analysis and 3D dental imaging of Ramos' mouth and facial structures. 
"The cosmetic aspect is dependent on the foundation," Auerbach said. "The foundation needs to be strong in order to get to a point where the esthetics and function are good."
Cassandra said she also likes to use regular photography and "old-school" techniques to complement the new digital technologies. 
"It's a combination of old and new," she told Fox News Digital in the interview. "We marry those two things together in the laboratory and then deliver the treatment."
"It made sense that if we were going to do something like this, that we would do it for people who put themselves in harm's way to be there for others."
"It's really an art and a science," Auerbach said.
Regardless of the cutting-edge technologies that are used, Auerbach pointed out that patients are still human beings — and that these procedures require a precise skill set and significant attention to detail.
After Ramos' implants were placed, he received temporary teeth that are made of plastic and supported by tiny metal cylinders, Cassandra said.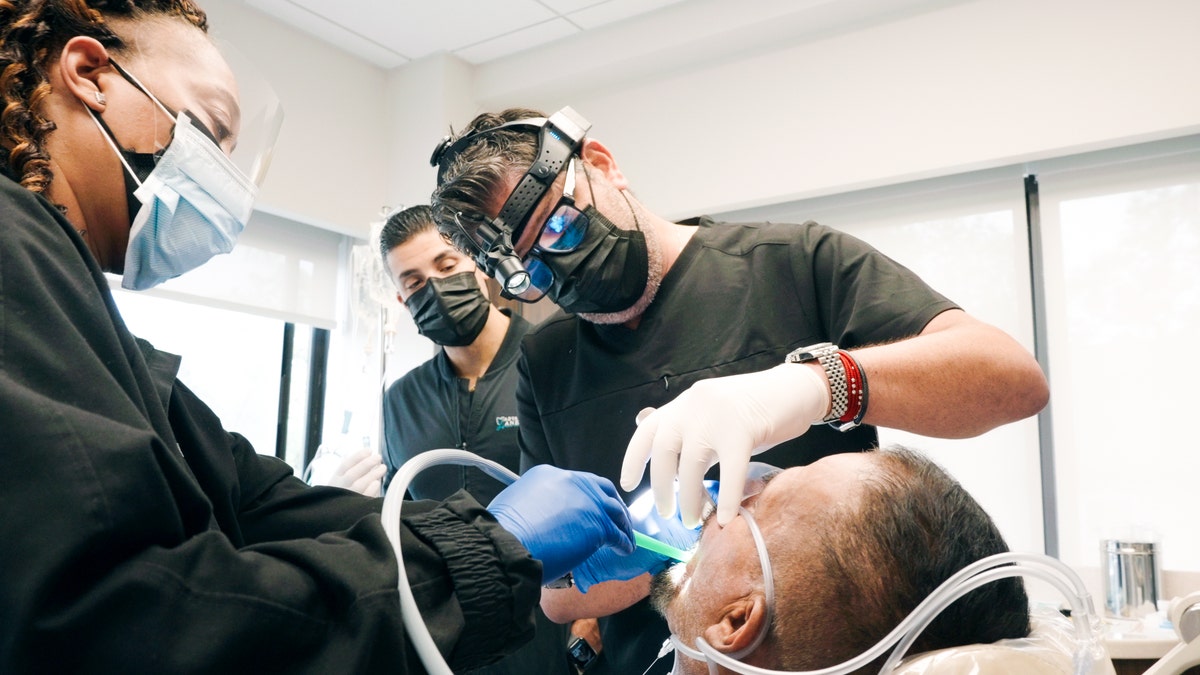 Once the implants are fully integrated and stable, the final restoration will be a milled piece of metal or titanium that's made in Switzerland by the manufacturers of the implant. 
"The precise fit of the teeth to the implants is what determines how successful they will be over the long term," Cassandra said.
SURPRISING BRAIN BOOST: BRUSHING YOUR TEETH MAY REDUCE THE RISK OF DEMENTIA, NEW STUDY SUGGESTS
The quality of the implant is also important, the dentists noted.
Straumann, the Swiss dental company that donated the implants for Ramos, exercises "incredible attention to detail and precise connection, which is paramount to everything," Auerbach said. 
"It's not really just implants — it's the type of implant and the person placing the implant."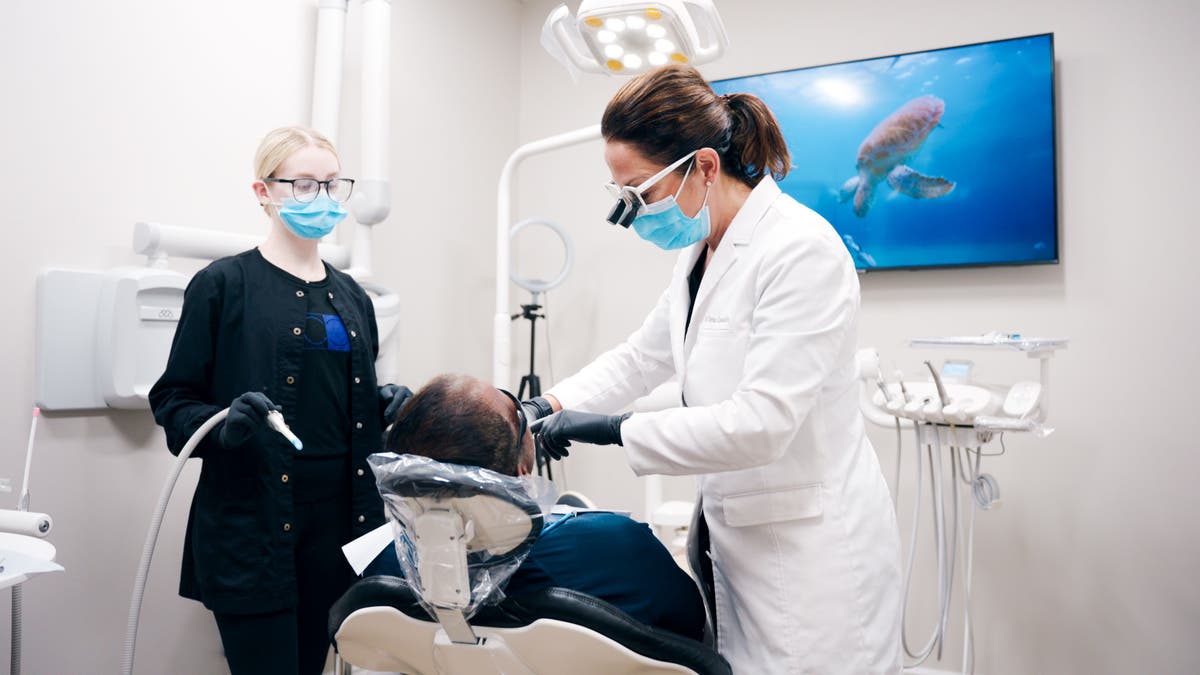 Ramos is thrilled with the results so far, he told Fox News Digital.
"The process has been long yet comforting, and the doctors and staff made it very easy and smooth for me," he said. 
"Everyone was professional and did a great job in making me feel comfortable."
Tips for maximizing dental health
To prevent tooth loss, decay and other major dental issues, Auerbach stressed the need to go back to the basics — following proper brushing and flossing protocol at home and regularly visiting a dental professional so that any issues can be caught and treated when they're small.
"Little things don't really cost that much if they're caught and treated early," he said.
If a cavity is left untreated, for example, it could eventually lead to a root canal or a crown — and if a tooth becomes infected, it may need to be extracted, which could then require a bone graft, implant and crown.
THESE ARE THE WORST DENTAL MISTAKES YOU CAN MAKE FOR YOUR TEETH
"The longer you wait to treat any problem, the more expensive and more burdensome it becomes," Auerbach said. 
It's also important to choose the right provider, the experts agreed.
"The right dentist will be compassionate, skilled and knowledgeable," he said.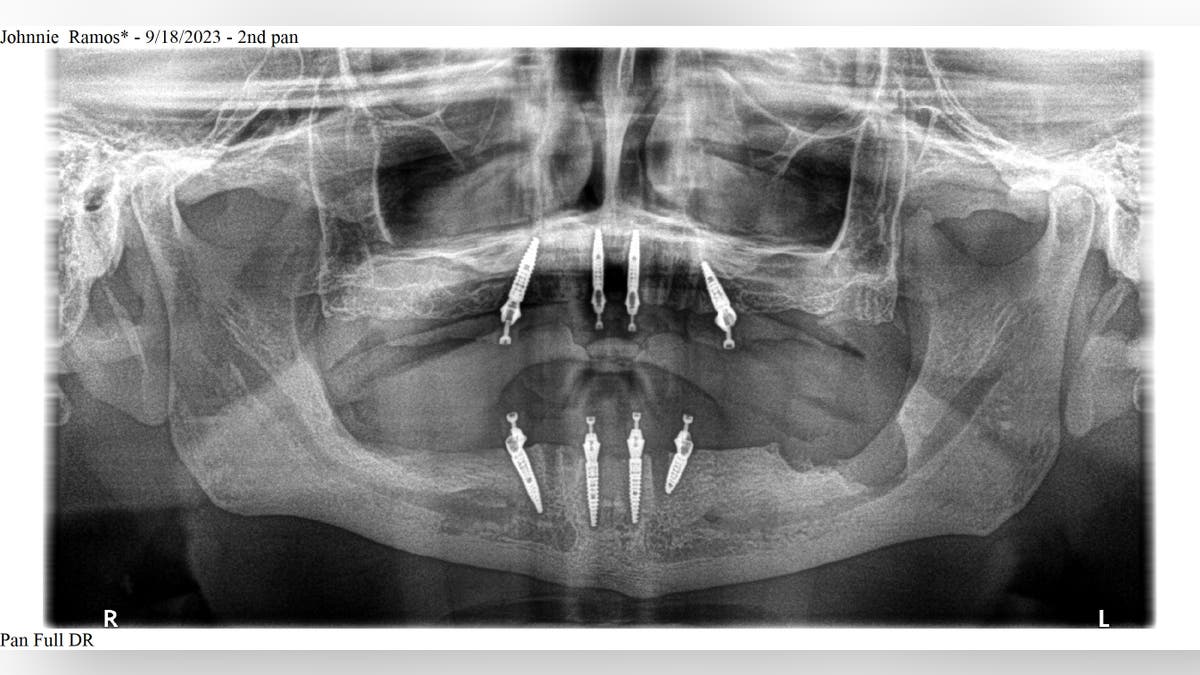 One of the main reasons that teeth break down, said Cassandra, is that people tend to breathe through their mouth — especially when they're asleep.
Open-mouth breathing can dry out the gums and mouth tissue, which can increase the risk of gum disease and tooth decay, experts say.
"Mouth breathers often have periodontal disease and lots of decay," she said. 
'DENTIST'S DREAM' OF REGROWING TEETH ADVANCES TO CLINICAL TRIALS IN JAPAN, SAYS REPORT
"And once somebody has pain from gum disease or broken teeth, and then they have a bad experience, they don't want to go to the dentist," she said. 
"They don't even want to brush their teeth because it hurts. So it's like a snowball effect. And I think that's where it started with Johnnie."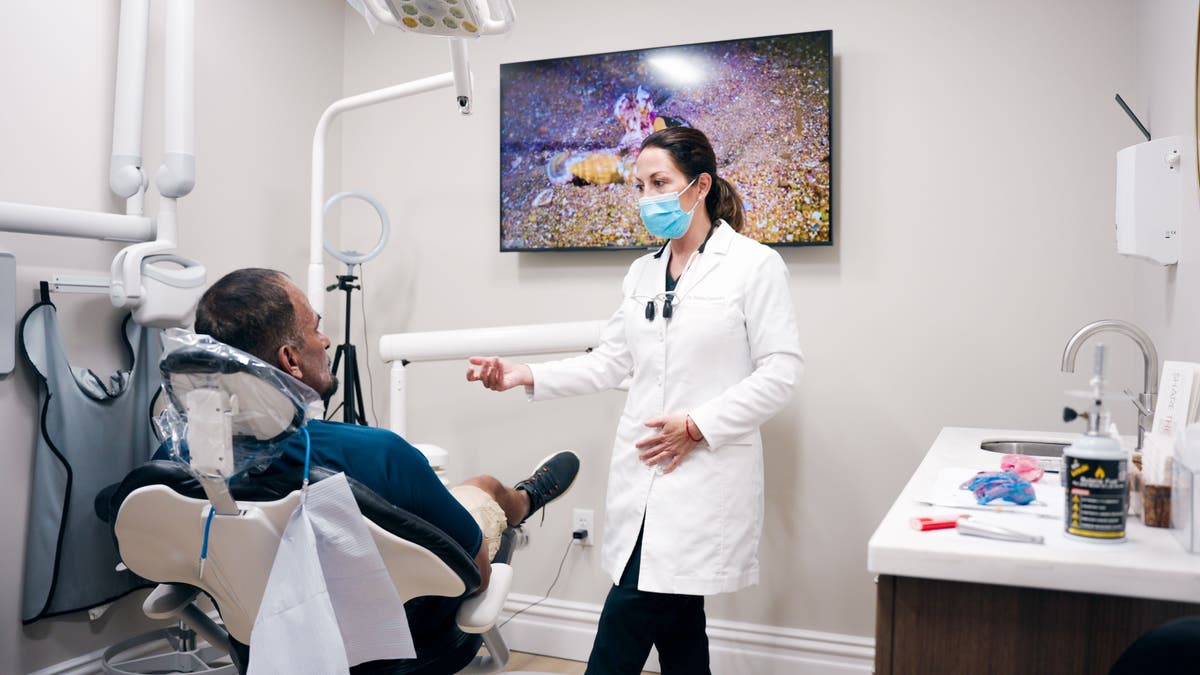 Much of dental health has to do with awareness, Auerbach said.
"A lot of that comes from socioeconomic issues — patients who don't have the best access to good health care or dental care when they're younger tend to have less than optimal experiences," he went on.
"It's a privilege to be able to make a difference in people's lives."
In hindsight, Ramos agrees that prevention is key.
"You should brush your teeth after every meal, and floss, and see your dentist as often as possible," he recommended. 
CLICK HERE TO SIGN UP FOR OUR HEALTH NEWSLETTER
"I wish I had taken better care of my dental health when I was younger and that I had regularly seen the dentist."
'Reason to smile'
Ramos said that his new teeth give him a "younger look, which gives me an actual reason to smile."
He told Fox News Digital, "The benefits have been amazing throughout my daily life — I'm able to smile more and feel more confident about myself."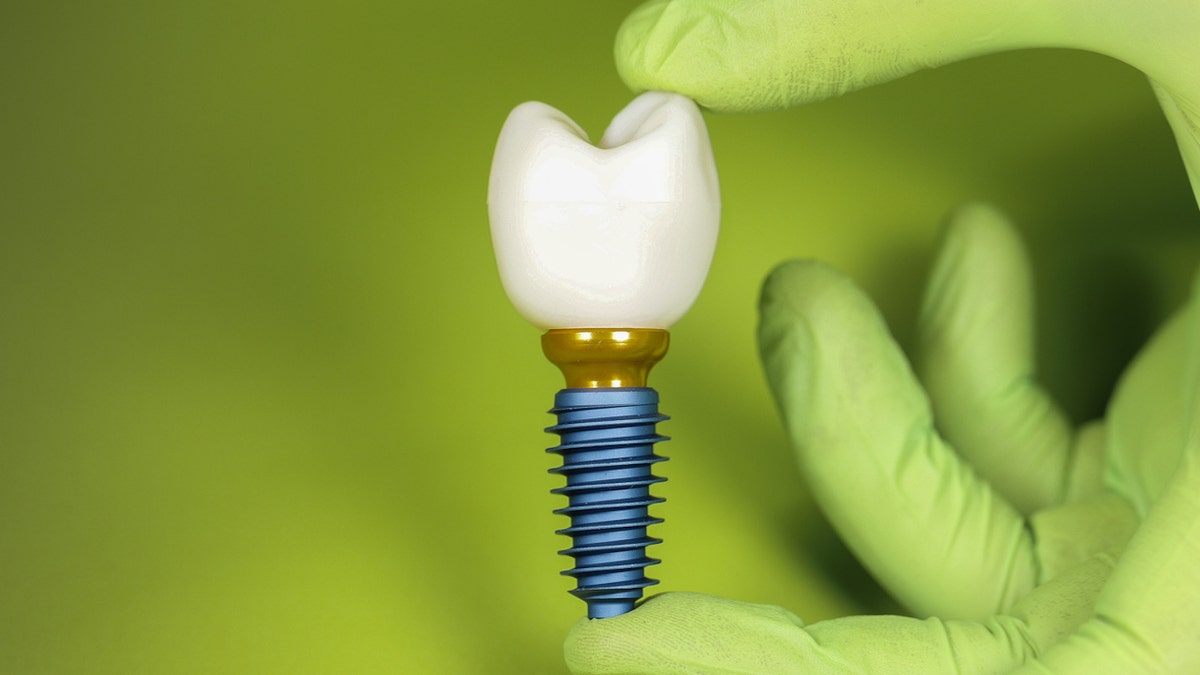 In terms of how humans relate to one another, said Auerbach, "the smile is really everything."
"When you meet somebody, you look either in their eyes or at their smile, or a combination of both," he said.
"The smile is a universal language," Cassandra added.
"Restorative dental work contributes to the physical health and well-being of patients — everything from eating and sleeping properly to reducing headaches and neck pain to helping with good posture and balance," she said.
These types of procedures can provide a big mental health boost as well, she said, helping people live happier, more confident lives.
CLICK HERE TO GET THE FOX NEWS APP
Looking ahead, Auerbach and Cassandra plan to perform one transformation each year through the SMILE initiative.
"We take it seriously," Cassandra said. "It's a privilege to be able to make a difference in people's lives."
For more Health articles, visit www.foxnews.com/health.