Carl Harris, who started out as an apprentice and worked his way up to senior site manager level, has invented the Brick Bud, a purpose-designed adjustable frame that supports brickwork structures during the construction process.
Traditionally, bricklayers have supported unfinished walls by propping them up with scaffold boards or lengths of timber found on site. But these improvised methods are unreliable and every year millions of bricks and thousands of hours of work are lost when walls are blown over in high winds.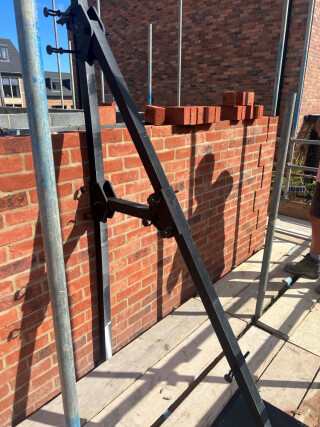 "We have major issues on our sites trying to brace our walls in wind, resulting in us putting our lives – and anyone else's on-site – at risk," said Harris. "Now we have a new technology that removes that risk. It's easy to install, it's light and robust and will withstand high winds."
The Brick Bud is an adjustable frame that transfers any lateral loading on the newly-laid brick wall safely and securely to the ground, preventing any movement. "With the Brick Bud you can leave site with the peace of mind that the wall will still be standing in the morning, whatever the weather conditions," said Harris.
So far Harris has produced three variants: the first was made from polypropylene hollow sections and has been tested at wind speeds up to 44.7mph.
Harris then produced a stronger GRP version. He has now produced an aluminium version that is ten times as strong as the original polypropylene one.
"I have been working on this and looked at how many walls are lost annually and the estimate on bricks alone is over 60 million, with the potential to build 6,000 houses," said Harris.

Apart from preventing waste and the risk of injury caused by collapsing walls, Harris says that his invention will reduce carbon emissions too. "About 25.6kg of CO2 is emitted into the atmosphere from just one square metre of bricks heated in a kiln. That totals about 28 million kilogrammes of CO2.
"We haven't even factored-in the cement and blocks, waste management costs, re-supply of materials, transport or man-hours.
"Insurance costs are rising due to near misses, accidents and even fatalities," adds Harris.
Harris has set up a new company – Harris Brick Safety Systems – to develop and market the product. "Our current situation is that we are making six products for installation purposes and we have been contacted by some colleges in the north-east and surrounding areas along with some in London to deliver some installation demos and safety talks to the students," said Harris.
Last month Harris exhibited his product at a Construction Industry Advisory Committee (CONIAC) exhibition in Newcastle and received positive feedback by attendees.
Among those interested in the product is the Skanska-Costain-Strabag JV currently working on the HS2 project. Harris says he has been invited down to London to discuss supplying the Brick Bud to SCS sites.
"We have also been in contact with Lee Marley, which is a large bricklaying contractor and has bricklaying academies across the UK. They want us to deliver some installation demos and talks on safety," said Harris.